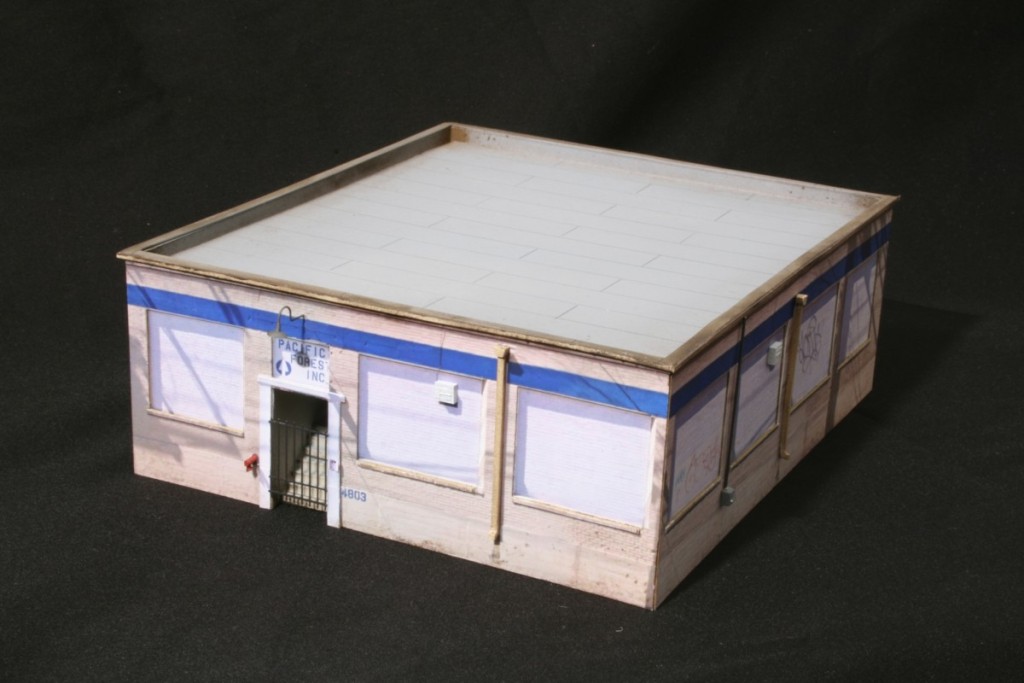 I love building models of nondescript structures.  Once you get into them, you invariably pick up on features you hadn't noticed at first glance.  With Pacific Forest (4803 S. Everett Avenue, Vernon, CA) I loved the yellow brick, door framing, logo above the door, and blue banding.
Although I shot the prototype photos myself on my trip last month, I found the Google Streetview images to be more workable.  In the past when editing the images to be used for photo wallpaper, I'd go to great pains to crop out the shadows of trees, guy wires, etc.  I now leave the shadows in as I think it creates more depth, contrast, and interest.
As far building the model, each face is a stack of three photos (photos made available for download in a previous blog).  The bottom layer is an unaltered base.  Next I cut the windows and doors out of the second photo and glue it on the base.  Finally, I cut out the trim features such as door frames, columns, sills, etc. and glued those on top as the third layer.  Once I'm done with stacking the photos I add the stand off details.  Most were just loose ends from my rather large "junk box".
Security bars: BLMA
Steps: Walthers
Downspouts: Rix
Light over the door: Blair Line
Fire hose tap: Walthers