Email Lance at: lmindheim@shelflayouts.com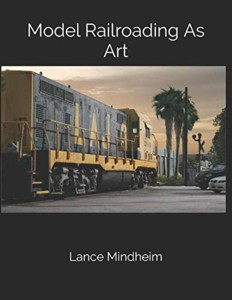 Just Released!  My latest book, Model Railroading As Art, is now available from Amazon.
News:
March 17, 2019: New blog entry
February 14, 2019: Written interview for Raildig Magazine.
January 26, 2019: New blog on my business site about incorporating diagonals into a layout design for visual interest.
January 2019: Article in the January issue of RMC on modeling a freight house.
January 6, 2019: Added two new images of generic asphalt pavement to the photowallpaper tab in the "How To" section.
Events I'll Be Attending and Presenting Clinics 
Railway Modellers Meet     Vancouver, BC     May 3rd – 5th, 2019
NMRA Southeast Regional           Chattanooga, TN             May 31st – June 1st, 2019
MER Liberty Bell Special    Philadelphia, PA           October 2019