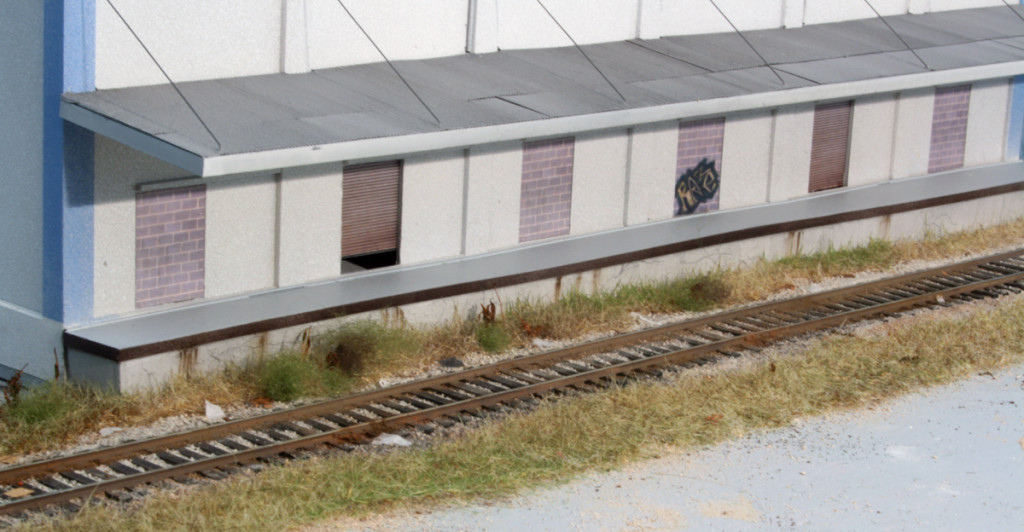 I've finished ballasting and scenicing the right of way along the Federal Cold Storage Spur.  As a few others have mentioned, I find hand laying track to be very relaxing, particularly (or especially!) when you don't have that much of it to do.  Because they're painted a darker color, the Proto:87 etched tie plates aren't really visible.  Of more importance is what you don't see; oversized spikes and/or the absence of tie plates. I also used a new technique with the grass.  Rather than mixing the green in with the beige prairie grass, I laid the prairie grass first.  I then masked off a few short sections here and there with paper towels and dusted on the green so you have more distinct borders between the green and beige.  Here's the overall sequence.
Ballast track
Mask off track with thin strips of paper towels damped with a mister bottle
Lay down a base layer of Heki Prairie Grass (pn 3363) using a static grass applicator
Follow up with a layer of 6mm Silflor "Autumn" grass
Mask off short sections of the prairie grass here and there and dust on a green blend
Work in tufts of green and brown poly fiber pushed into the foam scenery base with tweezers
I added a few stalks of natural materials from the moss in my backyard.  You have to use natural materials judiciously and sparingly as most are often oversize.
Seal with dilute matte medium applied with a mister bottle.
Remove paper towel masks.
 Taking photos of your work and blowing it up can be a great aid in pointing out things that need to be fixed.  The original base rail paint consisting of rail brown dusted with camo. paint was way too uniform in color.  I went back and mixed up a blend of brown and rust color (10 brown to 1 rust) weathering powders and worked them into the rail web and tie plates with an old brush. The final chalk application made a big difference.