Topic: Model Railroad Design
Topic: Model Railroad Operations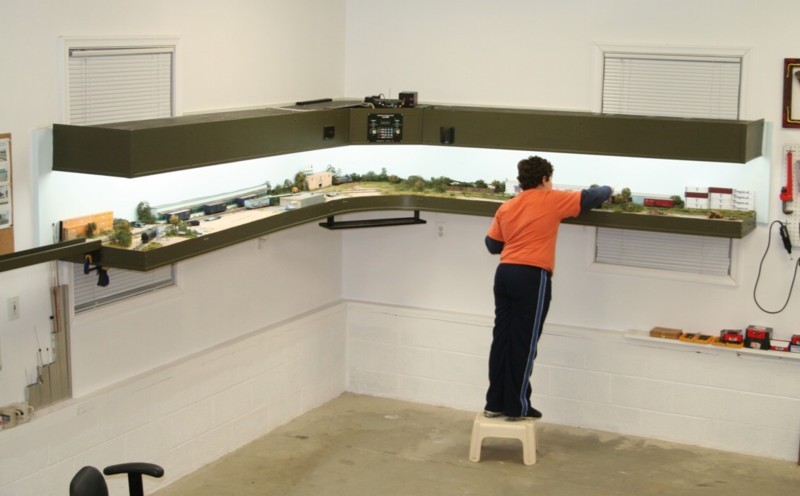 East rail was an 'instant on' layout.  In the evening, after my family duties were met, I could grab an ice cold beer, hit the switch, and run.  This, sub-conscious ease of use,  encouraged an atmosphere where I was operating almost daily.
Is your layout 'Instant On'?  Can you walk up to it, flip one switch, and immediately begin an impromptu, twenty minute, solo operating session that will run problem free throughout?
Or, do you need to set up bench work, cassettes, clean track, move cars,  or uncover it before you even begin? Can you get through a simple twenty minute session free of derailments and stalls?
Ease of use is one of those ergonomic subtleties that lies in the subconscious but dramatically effects how often and to what extent we participate in the hobby.
You've had a long day of work and commuting, evening arrives, and the thought of getting some running in drifts through your mind.  Next up is what it takes to do that.  "Well, I need to take a few sections out of storage, mount them on legs, clean some track", all of which may only take ten or fifteen minutes. Unfortunately, that ten or fifteen minutes of set up, maybe even five, is enough resistance that we hit the television remote instead.  It all adds up and I wouldn't be surprised if it cut hobby participation by seventy five percent.
Ideally you want 'instant on'.  You want to be able to hit the switch and go.  If it's that easy you'll find a dramatic increase in how often you run.  This feeds upon itself motivating you to spend that hour on a weekend to do some modeling, run even more, and the cycle repeats.
Given the choice between a modest layout that requires some set up versus a micro layout that is 'instant on' I'd suggest the latter.   In any family situation there is give and take to maintain harmony.  It is absolutely reasonable for a spouse to NOT want a layout in the living area of a home.  If the home or apartment is relatively small, you may have a situation where all the space is living area.  This means the best you'll be able to negotiate is some form of module situation that stays in a closet only  to be set up temporarily when you want to run. It's an environment that subtly discourages hobby participation.
An alternative would be an 'instant on' micro layout as shown below.  As simple as the platform is, I wouldn't underestimate the operational potential, ability to develop skills,  and its ability to serve up 'satisfaction of assembly' opportunities.  When broaching the subject with your spouse it's paramount that you make an honest commitment to clean assembly, a family friendly appliance if you will.  This means a very clean fascia trim strip and neat execution.  The layout would take up no space than a bookshelf.  Drawers below could hold mid-stage construction projects so they aren't in view.

Finally, 'instant on' isn't so much about layout size as it is readiness and quick ramp up.  I know of many medium size layouts that are 'instant on'.