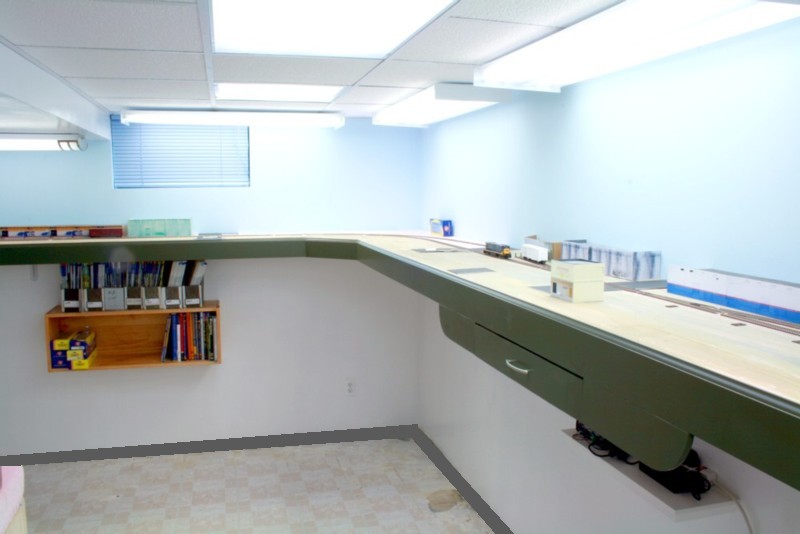 Simple steps can make the layout much more palatable to the rest of the family and make them more receptive to having it in the house. A clean Pullman green fascia, absence of clutter and junk, nice shelves, and not having tools scattered about are inexpensive ways to make the model railroad more family friendly.
Awhile back I got a call from an old buddy of mine inviting me over to see his layout. I hadn't seen 'Buddy' in years and jumped at the chance to catch up on things and see his model railroad. After setting up a time for the visit he switched to what was probably the real reason for his call, to subtly vent the frustration he felt with his unreasonable wife. Unreasonable Wife had banished his layout building activities to the garage. Buddy was pretty put out about this. After all, he contributed half of the household income and all he wanted to do after a hard day at work was indulge in the simple pleasure of working on his layout. I have to confess, he sucked me in and had me ready to offer a shoulder to cry on.
Stepping into Buddy's house I was struck by how nicely done the interior was. In addition to being neat as a pin somebody had hand sewn the draperies and valences and put a lot of effort into making it a nice place to live. I quickly guessed this wasn't Buddy's doing. He was oblivious to the nice environment that somebody else had created around him. After exchanging pleasantries Buddy escorted me through the kitchen. Pausing for drama, he had me stop at the door so he could stand to the side, open it and roll his creation out in front of me. With great fanfare, he swung the door open. As they say in the valley, "Oh……my…….God!" Had there been a gas explosion in the garage?
Buddy is a good modeler but I couldn't even concentrate on the layout. It sat on battered plywood that looked like it had been pulled out of a construction dumpster. Wires dangled beneath like a multi-colored rat's nest. Tools lay scattered all over the garage, covering more square footage than the layout itself. Then there was the, how do I put this delicately, the endless piles of crap. There were boxes and boxes of battered Tyco rolling stock, brass rail, wire, junk, junk and more junk. I quickly realized that not only was his spouse entirely reasonable, she was a saint for having enough restraint not to call the building inspector on her husband.
Let's hold up our end of things folks. Nobody wants something like that in the house. Every family dynamic is different but there are some very simple steps that can be taken to, if nothing else, increase the likelihood that you can get the family on board with having the layout in the house. Here are some focus points for creating a family friendly layout:
Fascia: The fascia or facing of the layout provides a frame and goes miles towards creating a clean look. You don't have to be a master millwright or spend a lot of money to put something clean together. If the layout has some elevation I suggest ¼" MDF (basically a high quality Masonite) cut to the profile of the scenery. If the layout has a relatively flat surface then floor molding will work. At a very early stage in construction get the fascia mounted. Attach it to the layout face with panelboard nails as opposed to screws. The fascia color is important. I agree with the general consensus that earth tone greens such as Pullman green or olive look best. Avoid primary colors (Red, Blue, Yellow). Avoid tans. Avoid pine stains or any wood stains for that matter. Avoid black. If you are stuck I use a Behr Paint mix called 'Wild Rice".
Legs: If your layout is supported by legs (as opposed to shelf brackets) paint the legs semi-glass black. This will hide them and downplay any defects.
Wiring: There is a tool called a 'cable tacker' available at most hardware stores that makes quick work of tucking your wiring neatly under the layout. A cable tacker is basically a staple gun that dispenses cupped shaped staples that don't pinch the wire.
Bench work width: In addition to design reasons for doing so, narrower bench work also looks much better in a finished room. Once you approach a bench work width of 24 inches, you are getting pretty wide. I suggest a target width in the range of 16 inches to 22 inches.
Beneath the layout: I've seen a number of modelers hang black drapes down from the fascia to screen off any mess beneath as well as to hide the legs. This does look nice. In my opinion though, the drapes get cumbersome, collect dust, and nice ones aren't cheap. My preference is to just avoid piling junk down there in the first place. If you need storage, install some NICE shelves or cabinets. Nice doesn't need to be expensive. Rusting milk crates, battered plastic milk crates, and old pallets don't constitute nice shelving.
Junk: Get rid of all the junk in the layout room. Set a goal of seven days to get it out of there. Give it to a teenager, a club, or a veteran's home. If you don't have somebody to give it to, THROW IT OUT! I can hear Buddy now, " I'm going to sell it." No you're not. "I might need it 'someday'." Doubtful. "It's worth a lot of money." Probably not any more. Strategically accumulating Pennsy F units for a future layout is planning ahead. Putting locomotives in a nice display case is collecting. Purchasing a bunch of unrelated, disconnected items with no coherent purpose is hoarding and binge spending.
Tidiness: At the end of the day, pick up your tools and leave the room in presentable, livable condition.
I can't promise this will get your layout back in the house but it will increase the odds!