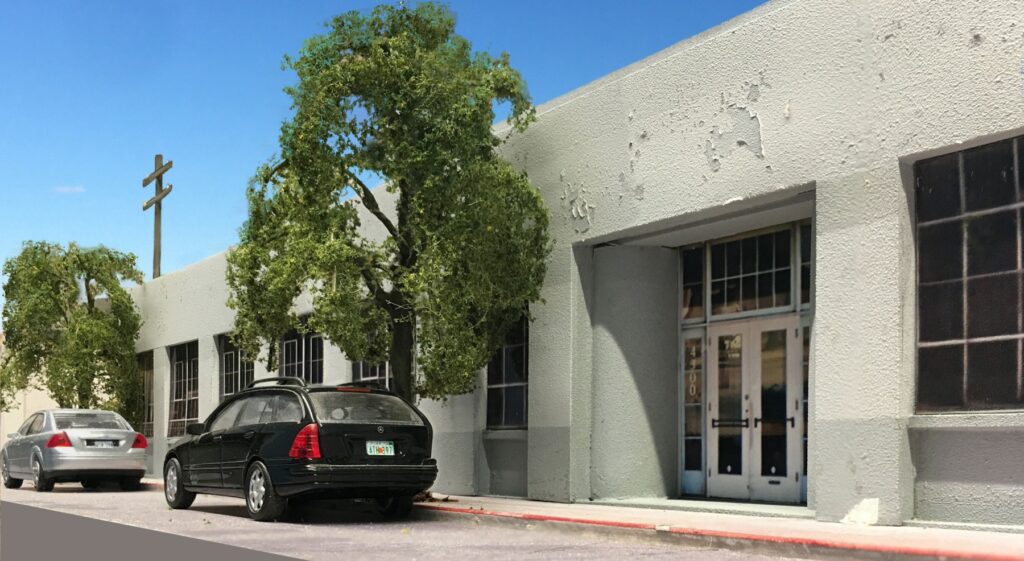 A sunny day in Vernon, CA. 4300 District Blvd.
For me, one of the most enjoyable aspects of the hobby is re-creating a location in miniature so I feel that I can visit it any time by walking into the layout room. Getting that effect really isn't possible with the naked eye simply due to the nature of optics and our situation of always having a helicopter view of things. We can, however, get around those limitations though through the magic of the camera lens and the amazing software that exists today.
Some of my most enjoyable memories are flying to the location I'm modeling, getting out of the car, and just walking it. Whether it be Miami, LA, or Brooklyn, the areas I'm representing are pretty small and can be walked in an hour or so. No matter how many photos you study, you just don't get the real picture until you've had a chance to be there in person. Life moves so fast we need to force ourselves to stop, breath, stand in front of a structure, and just take in and appreciate it's understated architectural beauty, and wonder what it's seen over the decades. Who were the people that worked there and drove by it? What trains went by in the wee hours of the morning?
4300 District Blvd. is pretty representative of what you see in Vernon, CA. A simple but interesting streamline moderne design. The model was scratch built out of styrene using traditional means. The windows and door are photos of the actual structure captured on Google Streetview and printed out on glossy photo paper. The peeling paint effect was achieved by tapping the paint with duct tape before it was fully dry.
If you find this point of view interesting you might enjoy my book "Model Railroading as Art" available through Amazon.