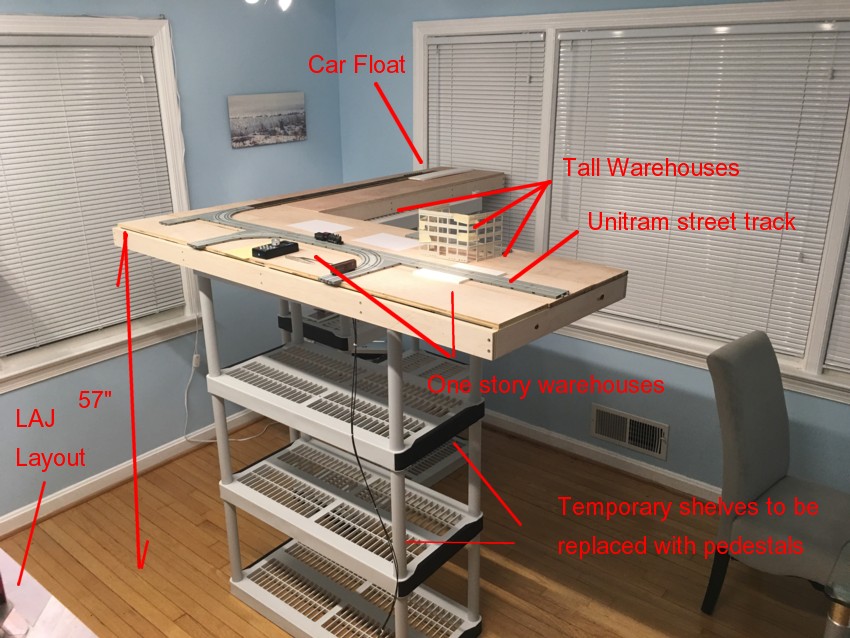 Momentum is building with the Brooklyn Terminal layout.  When it comes to layout planning I find that there are limits as to how far you can take scene composition with a two dimensional sheet of paper.  Although I start with sketch something out in CAD, I go in knowing that the final rendition will need to be planned with 3D mock ups.
Overall, the front spare bedroom of my home (sort of a sun room) will serve as a layout gallery of sorts housing both the now completed LAJ against the wall, and the new Brooklyn Terminal in the center of the room.  In it's final form, the BT will be supported on flat black pedestals and the shelving you see in the photo will be removed.
Testing over the weekend with the Kato Unitram street track and the new Model Power 2-6-0, although slightly glitchy, was very promising.  Both are excellent products.
Power has been fed to the rails giving me an operational mock up.  I'll run thing for awhile, likely making some slight changes to the overall track plan after seeing how operations play out in real time.