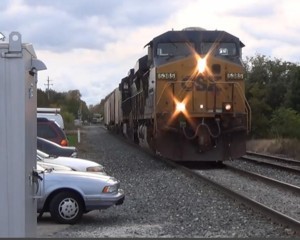 Click thumbnail to view video
Thanks to blog follower Justin for forwarding the link to this great YouTube video of CSX local D700 switching Standale Lumber in Grandville, MI.  What struck me is that this entire sequence could be modeled in real time.   The clip is roughly twenty minutes long.  You could inch through the video, notepad ready, and note every single move they perform and then model it.  So, with only two or three turnouts you'd have an easy to model scene, and an interesting after dinner mini op. session.  Note the time spent opening the gates and flagging the crossing.  Note that the loaded car is an offspot (dropped previously near the industry).  A layout with just two or three simple industries like this would be extremely simple and inexpensive to build, provide a great skills building platform, and provide satisfying operations.
Here's a simple three turnout layout that would be within easy reach of a middle school student or entry level retiree and yet also be satisfying for a more experienced modeler.  The design was operations driven to provide a one-hour operating session.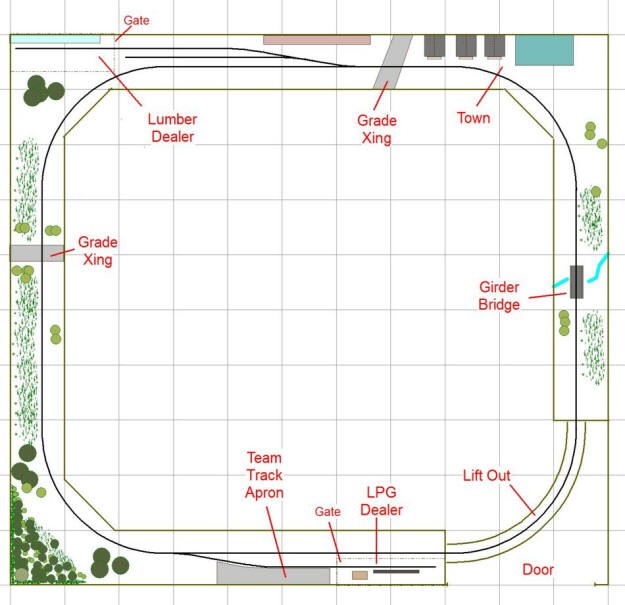 Track: ME code 70
Turnouts: Micro Engineering #6
Bench work: 12-inch hollow core door slaps
Curve radius: 27″
Grades: None
Room size: 10′ x 12′
One foot grid size