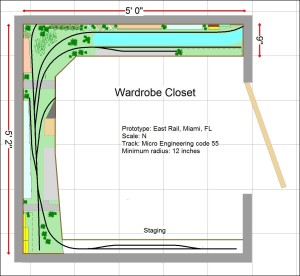 Converted to N scale, my East Rail layout would tuck easily into a wardrobe closet
A few days ago, I received an email from Blake B.,  one of my blog followers, with the subject line above. "Is It Worth It?".   In the body of the text he elaborated, " The new condo I moved into has a back storage closet. I haven't built a layout in a while and was looking to get back into it. The only problem is that it's 4.5 x 4.5 feet. Do you think it's even worth trying to build in HO in that tiny space?"
If ever there was a passage that summed up where so many others find themselves, this was it. For those of us that have been at this model railroad thing for a while we often forget how difficult and frustrating it is to make the transition from highly interested observer to participant.  How do you "do" this model railroad thing anyway?  Standing on the outside looking in, it must appear that you need a fair amount of real estate, established skills, and a fair amount of spare cash just to get started.  And get started where?  Sure if you're a recreational beginner there are ample resources explaining how to build an achievable rail fan loop.  But what if you want a model of a railroad where convincing results can be obtained right out of the box?
To answer Blake's question, yes it is worth it.  Action is always better than procrastination.  In fact, his situation provides a lot of opportunities.   Wardrobe closets are fully finished mini rooms with the added advantage that the door can be closed, hiding the untidiness of mid-stream projects behind said door.
What I'd suggest is at least a temporary switch to N scale.  This will allow enough space to get a fully operational layout built without too much compression.  Fine scale N is more challenging than HO so  when a larger space becomes available skills will already be developed.
As it turns out, if you convert my East Rail to N scale it will tuck right into that space.  I'd make the bench work a little higher to account for the smaller models.  Quick launches are important and to that end I'd temporarily mock up the track with Peco code 55, lightly tacked down with white glue.   All of the bench work could be finished, track placed, and trains made operational in one long weekend.  At that point you can then double back and gradually replace the rail with finer scale Micro Engineering code 40.  Scratch building skills could be developed and honed.  The same for hand laid track and fine scale scenery.  You could have one heck of layout in there.