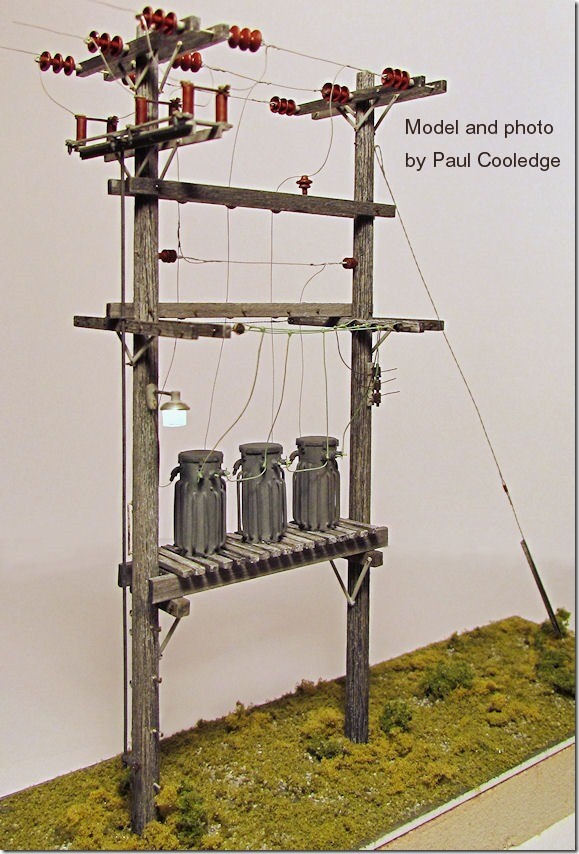 After my last posting, I was contacted by Paul Cooledge who was kind enough to share with me his exceptional utility pole model above.  He explained his methods as follows:
"I completed this scratch-built  1/87th scale model on March 4th as part of a Railroad-Line Forum challenge and thought that being a fellow utility pole enthusiast you might find it of interest.  The poles and structure are made from tapered wooden dowels and scale lumber made from coffee stir sticks.  The transformers are styrene and brass and copper wire; each one is constructed of 39 individual parts.  The insulators include eight appropriated from a Walthers utility pole kit and the balance were made with sterling silver bead caps, glass beads and styrene.  The gang switch is constructed of brass and copper and operates via linkage from the handle at the base.  The mercury vapor lamp is a silver bead cap with a plastic diffusor and is illuminated with an 0603 LED.  The electrical wires are made from single strands of copper from a lamp cord for the heavier wire, and single strands of 30 gauge 'decoder wire' for the primary lines and twisted pairs to represent guy wires."
There are a number of advantages to modeling these structures and, when you do so,  putting the effort into doing it well.  First, the cost is nominal.  Second, the visual impact is very noticeable.  Third, this is something you can work on even if you don't have a layout yet.  Storage would be simple and you know you'd use them immediately.  There is a ton of data online on top of which you can simply walk outside to see an example.   Low cost, high impact….sounds like a great modeling subject.  Thanks Paul!